Over the past few days, Microsoft has started to upgrade all users of previous versions of Windows Live Messenger (WLM) 2009 builds to the newest version 14.0.8064.0206. Within time, versions 8.1 and 8.5 will be obligatory as well.
If and when you upgrade via the prompt from WLM, the entire Windows Live Essentials bundle is downloaded and updated as well.
To manually download and update to the latest version of WLM, check out the official site.
IMBooster is an add-on created by IMinent to enhance IM programs such as Windows Live Messenger and Yahoo! Messenger. The first release of IMBooster was back in May 2007. Its primary version was called IMBooster Public Beta 1.0. Back then, IMBooster was revolving around one single service, Video Winks for Windows Live Messenger, but today, IMBooster contains many other IM oriented services.
IMBooster Services
Today, IMBooster consists of a discrete conversation-attached bar from which IM users can send emoticons, winks, multiple nudges, use dynamic display pictures and decorate chat text, all in real time (Copyright held by IMinent). Each service comes with its own distinct name: Emoticons and BigEmos, Winks and Video Winks, FireNudge, Mood Avatars and Buddy Bubbles. As for BigEmos and Video Winks, these are an exclusive innovation from IMBooster whereas the content itself is created by a large number of freelancers all over the world, on a weekly basis.
IMBooster emoticons
Emoticonize me!
Unlike other add-ons from the niche, IMBooster offers the possibility to create personalized content (with a webcam or from personal images). However, this possibility is available only for emoticons and video winks for the moment. In addition, IMBooster is not an IM client and the main wish of its creators is to never become one, but to continue running on a completely separate channel (currently Jabber-based), working with the IM Client and not over or against it and its channels.
IMBooster winks
IMBooster is not only entertainment oriented software, but a complement to the IM Clients, a means of customizing and boosting the IM experience without slowing down the operating system or implementing itself in unwanted areas. IMinent has announced that the main goal of IMBooster is a clean and fast evolution with as many IM Clients as possible.
Compatibility
The IMBooster add-on is available for Windows XP and Windows Vista 32 bit and works with IM Clients Windows Live Messenger 8.5 or higher and Yahoo! Messenger 9.0 or higher. Full compatibility with Yahoo! Messenger was finalized back in August 2008. IMinent has also announced its intention to work on the IMBooster to AIM compatibility in the near future.
IMinent is a company which develops value-added software such as IMBooster for Instant Messaging and SearchTheWeb and IMinent Toolbar for Internet browsing. The company also offers IM statistical information of public interest and co-operates with companies in the business to bring novelty to the web.
TIPS AND TRICKS:
There are secret display pictures that you can activate with the key sequence $mood (example: $mood love, $mood kiss, $mood ? etc). Some display pictures have them, some do not. Try each character and see what happens.
Although they mention it rarely, there is a website where IMinent offers beta versions in advance, versions which are not stable but contain exclusive services and content. If you don't mind a rare bug, subscribe to the beta.
Create emoticons with the webcam or from an image on your computer: the content creation wizard is in the Emoticons window of IMBooster and is very easy to use, no explanations needed.
Decorate the text you send to your buddies by first writing something in the chat text box and then choosing a Buddy Bubble character with callout. You can see the preview on mouse over. Clicking the desired character send a decorated Buddy Bubble.
Send a FireNudge: you may only see one nudge but the person that is getting it is most likely receiving five of them. Wait 20 second for the button to reactivate itself before sending another set of five nudges.
Get the receiver to install IMBooster to benefit from the best IM experience. (Winks require both sides to have the software installed).
Want to see some "inside" techie info? Go to Options > About … and click the center of the window. You will see a pop-up with several useful things such as: if IMBooster is connected, to which IM Clients it is attached, etc. Don't worry, that is private info, only you can see that (a remainder of our testing series which is quite useful for debugging).
For more information on IMBooster, visit IMinent.com
MARCH 4, 2009 UPDATE - The ad-free, paid version of AIM for the iPhone went up on the iTunes Application Store today. As we initially reported, it costs $2.99, and is essentially the same as the free version, with the exclusion of advertising. 
AOL has updated their AIM application for the iPhone, adding new features and a soon-to-be-released paid AIM app. The original AIM app was one of the first applications to appear on the iPhone. AOL hefts a lot of clout with millions of users and it's Time-Warner media ties, so it's little wonder they were featured so prominently when the iTunes Application Store launched. 
Since then an abundance of IM applications for the iPhone have sprung up, most of them offering multi-network IM — a clear advantage if your contacts are spread across several IM systems. 
This 2.0 version of AIM for the iPhone and iPod Touch adds several notable features. The AIM app is now location aware, allowing you the option of sharing where you are (with your contacts, not just anyone) . It also gives you a new buddy list group that shows you which of your contacts are nearby. Of course, for any of this to be of use, you've got to have contacts that are nearby, so unless you're a student, it's unlikely to be of much value beyond the "cool" factor. 
The more practical addition is SMS alerts. Tired of waiting for Apple to open up the push notification capability (promised in Sept. 2008!), AIM now lets you choose to remain "signed in" for up to 24 hours, even after closing the app. To your contacts, you'll appear online, and when they send you an IM, you'll get text notification — partially emulating push notification. Note that although AIM sends these SMS notifications for free, you may incur telecom charges for the receipt of each message (depending on your plan). 
Also new in this version is support for multiple accounts and the ability to send free SMS messages to anyone in your iPhone address book. 
What's the catch? 
There will be two versions with essentially the same features. The free version is advertising-supported; you'll have to put up with display ads on many of the screens. The paid version will cost $2.99 but be ad-free. 
You can download or update the free version now. The paid version will be available soon (it's working it's way through the iTunes approval process). 
Get another opinion…
I can remember when… (man, I sound like my grandpa) 
I remember when your cell phone (we didn't call them mobiles) had it's own address book, and you had no way to back it up. If you lost the phone and didn't have a redundant storage system (paper or PC), you were screwed. 
Smartphones emerged and we could sync! Well, we could if ActiveSync didn't act up and give us grief. But we were still tethered to a single PC. 
The phone companies started offering to backup your address book from your phone — for a cost. Are you kidding me?! 
Now Google comes along and introduces Google Sync, promising to sync not only your contacts, but your calendar entries as well (if your phone supports it). Google Sync is currently in beta, and works with the iPhone, Blackberry, Windows Mobile and many Nokia phones. Of course, you'll have to have a Google account to make use of this, but if you do, you'll want this. 
The beauty of Google Sync is that you can make changes on either your phone or on the web (via any internet-connected PC) . The updates syncronize in both directions. 
Here's a video overview of Google Sync: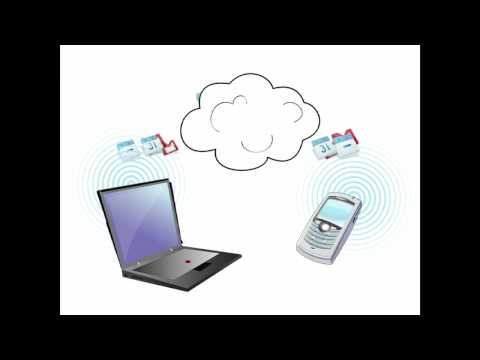 There are some subtle differences between features and functionality on different devices, so be sure to check their site for the details on your phone. 
And remember that this is beta — be sure to backup your contacts and calendars just in case. Google even reminds iPhone users: 
Important! Google Sync uses the Microsoft© Exchange ActiveSync© protocol. When setting up a new Exchange ActiveSync account on your iPhone, all existing Contacts and Calendar events will be removed from your phone. Please make sure to back up any important data before you set up Google Sync.
All existing contacts and calendar events will be removed? Gulp! 
Seriously, back up first, but give it a try. I've been using it happily for some time with no serious problems. 
AOL's $850 million purchase of the Bebo social networking site may pay off after all. AOL announced today the first of a series of major project changes with the addition of lifestreaming capabilities. This is similar to the stream of activity and status updates found on rival social networks from Facebook, MySpace and FriendFeed, but with a twist. Bebo's lifestreaming integrates these activities and status updates from a range of existing AOL features, including AIM Profiles and ICQ. Yes, the millions of existing AIM Profiles will be migrated over to Bebo this week, meaning there is a good chance you will be on Bebo, (probably without even knowing). Read more
SAN FRANCISCO, CA–(Marketwire – February 23, 2009) – As a thank you to its loyal BlackBerry community, Beejive today announced a week-long sale on BeejiveIM for BlackBerry, the most reliable and user-friendly mobile IM application on the market today. This native, highly customizable application will be available for as little as $14.95, a $5.00 discount, from midnight PT, Monday, February 23, until midnight PT, Sunday, March 1.
"Beejive has been wildly successful in bringing the power of desktop instant messaging to mobile users," said Kai Yu, founder and CEO, Beejive. "We would like to offer the BlackBerry community, which helped us build our business, a chance to get BeejiveIM for an unprecedented low price before we issue a major new release — which will be a free upgrade — in just a few more weeks."
BeejiveIM for BlackBerry supports AIM®/iChat®/MobileMe®, MSN®/Windows Live®, Yahoo!®, MySpace, GoogleTalk®, SameTime®, ICQ®, & Jabber, allowing users to access all of their IM clients from one user-friendly interface. With BeejiveIM, users can experience the connectivity and full features of desktop instant messaging from their BlackBerrys, making it much easier and cost-effective to communicate than via texting.
In addition to the BeejiveIM for BlackBerry device license being available at a $5.00 discount, the user license will also be available for only $24.95, down from $29.95. The user license is for use on one BlackBerry device at a time but can be transferred to other BlackBerrys for free, allowing users to bring their license with them as they change models.
To purchase the BeejiveIM for BlackBerry licenses at the special sale price, please visit http://beejive.com/blackberry/.
About Beejive
Based in San Francisco, Beejive (pronounced \be-hiv\) is a privately held company specializing in the design and development of software for mobile devices. Founded in 2006, Beejive strives to become the world's premier developer of fast, reliable, and easy-to-use mobile software. BeejiveIM, the initial offering from Beejive's product portfolio, is a multi-protocol instant messaging client that connects the mobile user to the major instant messaging networks. BeejiveIM was created to address the lack of reliable, user-friendly instant messaging applications available to mobile users. For more information, please visit www.beejive.com.
This is a list of the latest instant messaging, voice over IP (VoIP) and chat programs, with links to the official sites where you can download them. Unless noted otherwise, all of these programs are free.
We make every effort to keep this listing up-to-date, but before you complain that your favorite IM program isn't listed, let me remind you of two things. First, this is not an exhaustive list of every IM program under the sun — just the ones that are most significant. And secondly, if you would like to see something added, or have an update to report, please, leave a comment. – The BigBlue Crew Read more
Yammer — the "twitter-for-business" microblogging system — has added the ability for you to add RSS feeds to your company stream. Eric Eldon at VentureBeat likens Yammer's new feature to consumer lifestreaming services such as FriendFeed, but with (theoretically) a business focus. 
A great practical example would be to create a feed from Google News that tracked mentions of your company, key competitors, industry news or clients.  Your Yammer-using co-workers can then follow any feed setup by another co-worker at your company. And everyone can add their own comments to the stream. Read more
At the annual Mobile World Congress in Barcelona today, Nokia announced that their new N97 smartphones will come preloaded with Skype, the popular voice over IP (VoIP) software — a radical shift for Nokia and a major business coup for Skype. 
Telecom companies have resisted explicit support for VoIP programs such as Skype because of the potential for lost revenue. Of course, most mobile carriers do not charge for long distance calls within the continental U.S., but international calls are often very costly. For example, AT&T charges about $1.99/minute for most calls to Europe. This is where Skype can help. 
Skype allows you to make free calls to other Skype users, using VoIP over the internet. This implies that you have internet access from your mobile phone, but for most smart phones this is a given. You can also make Skype calls to any landline or mobile phone, but for this, there is a per minute charge via Skype credits. The cost per minute varies depending on your location and where you're calling to, but usually it's a few pennies per minute–a substantial savings over most international telecom rates. 
It will be interesting to see how well the Nokia/Skype agreement is accepted by the telecom carriers in the coming months.
The Truphone
 mobile VoIP service announced support for AOL Instant Messenger (AIM) chat into its iPhone app. This comes just a couple weeks after adding instant messaging support for Google Talk, Windows Live Messenger and Yahoo! Messenger.
The Truphone iPhone app is free from the Apple App Store. The key benefit of Truphone is its ability to let you make free VoIP calls to any other Truphone or Google Talk user, and cheap international calls to any landline or mobile phone. The addition of instant messaging and Twitter are "nice to have" features that make Truphone a Swiss Army knife of communications. 
Truphone's support for Skype calls announced last month at Macworld  has not been added yet, as they continue to work out quality of service issues. 
My take? Truphone is interesting, but if you're in the U.S., your AT&T plan already gives you free long distance in the continental U.S..  Truphone won't impress you unless you're a geek or you really make a lot of international calls. 
Truphone is also available for many other platforms, including G1, Blackberry and some Nokia phones.