As rumored last week, Skype for iPhone is now available on the iTunes App Store. The free Skype application works with both the iPhone and the iPod Touch, allowing you to make free or low-cost Skype calls using VoIP and your WiFi connection. That's right, it won't work work over 3G or EDGE networks, likely due to business arrangements more than for technical reasons (read: AT&T still wants your dialing dollars).
Skype did a great job of building an app that takes full advantage of the iPhone design–it looks like it just belongs on the iPhone. 
Skype for iPhone gives you most, but not all of the core capabilities of it's desktop sibling:
Free Skype-to-Skype calls from any Wi-Fi zone to other Skype users worldwide
Call landline or mobile phones at low rates from any Wi-Fi zone
Send/receive instant messages to/from individuals or groups via 3G, Wi-Fi, GPRS or EDGE (whichever is available)
Receive calls to a personal online number on Skype
See when Skype contacts are online/available to IM or talk
"Skype software for the iPhone has been the number one request among our users. We are delighted to deliver on this request and put Skype into the pockets of millions of people around the world who are carrying iPhone and iPod touch devices," said Scott Durchslag, Skype's Chief Operating Officer. "Skype for iPhone will open up new ways for more than 400 million Skype users to stay connected and take their Skype conversations with them. Skype for iPhone is an experience that offers the same simplicity, ease-of-use and quality our users have come to expect from Skype, combined with an elegance of design and richness so loved by Apple's many customers worldwide."
Noticably missing from this Skype app is the ability to run in the background with push notifications — a feature promised in the iPhone OS 3.0 this summer. Until then, this initial version should stave off the competition from Nimbuzz and Truphone.
Useful Links
The multi-protocol instant messenger Miranda got a whole new gig today. Now you can use Miranda to connect to Twitter, staying up to date on everyone you follow and posting new tweets. Miranda-Twitter is a protocol plugin for Miranda IM v 0.8+. 
Miranda is a free IM program that works with all of the popular IM networks, allowing you to use one program instead of many. With the addition of Twitter support via this plugin, Miranda is edging into the social networking turf that Digsby first ventured into.  Unlike Digsby, the Miranda installer does not encourage you to install any adware programs. 
To share feedback on the Miranda-Twitter plugin, visit this Miranda forum discussion.
I love a good rumor, especially when it's about two great products. In this case, the rumor involves the popular VoIP messenger Skype (which has been downloaded over 400 million times) and the iPhone. GigaOM has it on good authority that an official Skype app for the iPhone will be showing up at the iTunes Application Store as early as next week during the CTIA Wireless industry event in Las Vegas.
Readers at Engadget point out that there are already several VoIP solutions for the iPhone (Nimbuzz and Truphone, to name two), but most of these are clumsy to use, at best. Skype products generally have a very polished feel about them, and we will be watching this news closely as the story develops.
JBuddy Messenger is a multi-protocol, cross-platform instant messaging desktop client. JBuddy Messenger supports popular public instant messaging protocols as well as enterprise instant messaging servers and runs on Windows, Mac OS X, Linux, Solaris and other Java-enabled desktop environments.
System Requirements:
JBuddy Messenger requires a Java Runtime Environment (JRE) which means it's suited to run on most modern operating systems.
Download & Deployment:
JBuddy Messenger v3.0 supports three download formats; one for each popular operating system.
JBuddyMessenger.zip – for Windows XP and Vista; extracts to a simple exe launcher
JBuddyMessenger.dmg – for Mac OS X; extracts to a simple JBuddy Messenger.app
JBuddyMessenger.tgz – for Linux, Solaris and other Unix platforms; extracts with a simple shell launch script
Free Public Instant Messaging Support:
AIM
ICQ
Windows Live Messenger (MSN)
Yahoo! Messenger
Paid License – Enterprise Instant Messaging Support:
 Google Talk
XMPP / Jabber / iChat Server
IBM Lotus Sametime
Microsoft Office Communications Server (OCS 2007)
Microsoft Live Communications Server (LCS 2005)
JBuddy Message Server (Zion's own enterprise IM server)
Paid License – Business Features:
Chat Log Browser
Chat Log Search Engine
English Spell Checker
Skins
JBuddy Messenger support several Java Look and Feel skins, which means how it looks can be customized depending on the environment and user preferences.
Buddy List Management
One of the challenges of using a multi-protocol instant messaging client is buddy list management. Often a savvy instant messaging user will have multiple screen names for many of their contacts; perhaps a work screen name and a home screen name. JBuddy Messenger v3.0 introduces Meta-Buddies (Trillian calls them Meta Contacts). A meta-buddy is an aggregation of the presence of multiple screen names under one buddy. Also, buddies groups of the same name across multiple accounts can be visually merged to simplify large buddy lists.
Useful Links:
Popular multi-protocol mobile instant messenger Palringo is now available on the Android Market.  This free Palringo instant messenger connects with a range of IM networks, including AIM, ICQ, WLM (MSN), Yahoo! Messenger, Google Talk and Facebook. And unlike Palringo on the iPhone, this runs in the background on Google Android phones, allowing you to stay connected and get notified of new messages as they are received. 
"By integrating the messaging capabilities of popular IM applications and social networks into a single application, Palringo has created a messaging community that runs to hundreds and hundreds of millions of users" said Martin Rosinski, Palringo's CTO.
Palringo for Android is also location aware, as you can see from the screenshots below — allowing you to see where your friends are (assuming they are also running Palringo, and have location aware phones. 
This version also provides the ability to share pictures, allowing you to snap a pic with your phone's camera and send it to your buddies, regardless of their platform (they could be on AIM sitting at their desktop, for example). 
Useful Links
Skype has released a new beta version for Windows Mobile that adds file transfer and SMS capability. The Skype 3.0 Beta for Windows Phones was announced on the Skype blog, where they outlined the details of the new features. 
The SMS capability can save you money, but generally only if you need to send SMS messages internationally (or you are travelling internationally). You would use Skype credits, and their rates, while generally much lower than standard mobile carrier rates, do not include data usage. The bottom line is that it can save you money, but you better calculate all the hidden costs and use it wisely. 
The more practical feature is file transfers, which will work across any platform that Skype runs on. File transfers are secure, so you can safely send that Powerpoint presentation from your WiFi connection at Starbucks. 
Useful Links
Google has released a new version of their mobile YouTube app optimized for Windows Mobile and Nokia/Symbian Series 60 devices. The new app promises faster startup, search and video loading (up to 90% faster); improved video quality; and enhanced WiFi support.
The new app will also automatically alert you when new updates are available to download, making upgrades easier.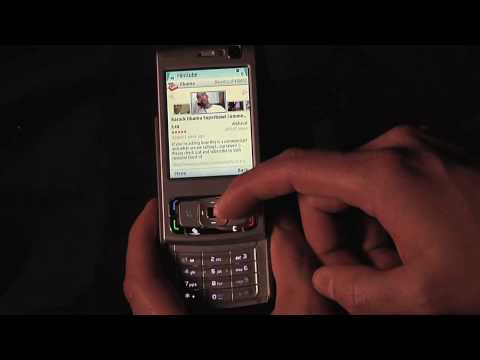 Useful Links
Nimbuzz today released an update to their VoIP application for the iPhone. The new version adds the ability to make VoIP calls to landlines and mobiels via Skype-Out and Nimbuzz's major SIP partners, including Gizmo5 and SIPgate. Nimbuzz also works on an iPod Touch via wifi, essentially turning it into a VoIP phone. 
iPhone users can also make VoIP connections without wifi over the 3G network using Nimbuzz Dial-up VoIP. This makes international calls much cheaper, by allowing you to dial a local number, then connecting internationally to over 50 countries. 
Also in this version — Nimbuzz now allows you to post Twitter updates, making it a well-rounded, all-purpose communicator.
BeeJiveIM for iPhone was updated this week to support Facebook chat. Not long afterward, reports started coming in that something was wrong for some people. When they tried connecting to any IM service, they got a mysterious "PC LOAD LETTER" message which, when clicked, opened a clip from Office Space on YouTube (NSFW).
MobileCrunch reports that the "problem" was BeeJive's offbeat way of fighting software piracy. The official word from BeeJive:
We have recently implemented new anti-piracy measures in BeejiveIM for iPhone. We have tried to keep our approach fun with an error message and a video. But we hope our message is clear: please respect the work of developers.
There was initially some confusion about who would get the message and why, but it all boils down to this. If you installed a cracked version of BeeJive, you got the message. If you purchase a legitimate license, you've first got to uninstall the cracked version, then install the legitimate version in order to eliminate the message. 
Kudos to BeeJive for tackling piracy with a sense of humor.
Digsby is a multi-protocol instant messaging program that adds social networking and email notification integration. Digsby's IM support is extensive. Digsby connects to AIM, WLM (MSN), Yahoo, ICQ, Google Talk, Jabber and Facebook Chat.
Social network support includes Facebook, Myspace, Twitter and LinkedIn, giving you the ability to update your status and get live updates from your contacts.
And Digsby gives you email notifications for Gmail, Yahoo Mail, Hotmail, AOL, IMAP and POP3 mail accounts. If you need to connect to multiple networks, Digsby is worth a closer look.
Background
Digsby began as Steve Shapiro's school project as he worked on his MBA at Rochester Institute of Technology. The project grew to a team of developers, now operating as dotSyntax LLC. After two years of development, Digsby was first released in a private beta in February 2008, and to the public in March 2008. Since that time, Digsby has quickly grown to become one of the most popular multi-protocol IM programs on Windows.
Customization
One of Digsby's great features is the ability to personalize the look. You can create or download new skins to change the entire look of Digsby.  You can switch the chat theme, load custom emoticon and sound sets.
Requirements

Currently Digsby is only available on Windows (XP or Vista), but Mac OS X and Linux versions have been promised.
Installation Notes

In late 2008, the Digsby installer was changed to include a number of "utilities" of dubious value. Most of these additional utilities are adware supported. Installation of these additional programs is fortunately optional, but be cautious to read each installation screen carefully and choose decline for these "extras."
Useful Links