Last week, Yahoo! Messenger product manager Sarah Bacon put her foot in her mouth when she complained on the Y! Messenger blog that Apple was taking so long to approve their updated Yahoo! Messenger iPhone app. Somehow she missed the fact that the app has been resubmitted with some changes, resetting the review period. Nevermind that she's a product manager and should know this. It's a moot point now that the updated app has been approved and ready to download from the iTunes app store.
Yahoo! Messenger 1..2.2 for the iPhone incorporates several changes based on your feedback:
Stay available, not idle. Now when you close the Yahoo! Messenger app, you'll still show as "available" to your Yahoo contacts rather than "idle."  Since you get push notifications of new chat messages, this is more logical.
Get a better Buzz. No, not that kind of buzz. They've tweaked the Buzz feature with a new notification sound, the ability to turn it on or off, and added vibrating buzz notifcations.
"Shorter and prettier" notification sound. – Apparently this was a big problem for a lot of people, based on feedback. Go figure.
Address book integration fixed. Yeah, they broke it in the last version. Now it works properly again, so when you compose a new SMS to someone, you can access numbers in your iPhone address book, and not just your Yahoo contact list.
Resources
Yahoo today announced availability of the Yahoo! Messenger 10 beta. What's in the new beta? High-quality video calls, a "Y! Updates" view of your contact list that turns Messenger into a Twitter stream, new ways to sort your contacts and support for 16 different languages.
High-Quality Video Calls
They have revamped the one-to-one video calls, building it right into the chat window, improving the video quality and synchronizing the audio with the video. You can swap window positions (between your preview and the person you are viewing), display both windows side-by-side, and put the call on mute or hold.
There are some caveats. The new video call requires both parties to be running Yahoo! Messenger 10, and the changes don't apply to one-to-many webcam broadcasting.
Y! Updates View
The new Y! Updates view of your contacts is more interesting to me, as it is a unique way of displaying your contacts, sorted in a live stream of updates that will be familiar to Facebook and Twitter users. The most recent updates will appear at the "top" of the contact list. Updates can come from Twitter, Last.fm, Yahoo! Buzz, Flickr, nearly 20 non-Yahoo web sites, and (of course) Y! Messenger status updates.
Why is this interesting? Yahoo is incorporating Twitter and co-opting the real-time update stream in way that other IMs have not quite done. Other IM programs like Digsby and Trillian Astra allow you to see updates from Twitter, but they display them as pop-up alerts, not as a view of your contacts. By turning the contact list model into a real-time stream sorted by the latest updates,  Yahoo has transformed the contact list into something more dynamic and engaging.
The features are interesting, but keep in mind that this is still beta software and there probably are bugs. If that puts you off, stick to version 9.
Resources
Pidgin, the best multi-network instant messenger for Linux just got better. John Bailey provides all the details, which include two notable new features:
Voice and Video - Thanks to Mike Ruprecht's Summer of Code project last year, libpurple has been updated to support voice and video. Pidgin 2.6.1 supports this for XMPP currently, but they are working on updates for other protocols.
Theme Support – Another Summer of Code project, this one from Justin Rodriguez, adds theme support for the buddy list, sounds and status icons.
While these features are great news for Linux users, they have not yet been implemented in the Windows version. There is a long list of updates, fixes and changes. If you're using Pidgin, it's worth updating.
Resources
Webcomic xkcd nails it again with their Tech Support Cheat Sheet for "non computer people." If you've ever been called on for your computer help, you'll want to print this out and distribute to your family, co-workers, grandparents, and other "non techies." It's so true.
Truth, as they say, is stranger than fiction. Facebook has produced an app that will automatically send Facebook Page updates to Twitter, allowing businesses, organizations, bands — anyone with a Facebook Page — to have posts automatically generate a tweet to their Twitter followers. The details were posted on the Facebook blog by Michael Gummelt — the summer intern who developed this app.
If you administer a Facebook Page, you can set up Twitter updates by visiting http://www.facebook.com/twitter/. You'll be asked to configure what kinds of new posts will trigger Twitter updates.
Note that this new feature doesn't apply to Facebook user pages. So, for example, I can't automatically send Twitter updates for new posts to my personal Facebook wall, but the BigBlueBall Facebook page can.
The fact that Facebook is announcing this feature is interesting, since many of the features they've been implementing are designed to compete head-on with Twitter.
Adium, my favorite multi-network instant messaging app for the Mac, has released version 1.3.6. The new version includes an updated libpurple to fix a vulnerability with the MSN protocol as well as an updated version of the Facebook chat plugin and numerous bug fixes.
If you use Adium, I highly recommend upgrading.
Meanwhile, work continues on Adium 1.4. If you'd like to help beta test, you can change your preferences to automatically download the latest beta, or visit the Adium beta page.
Nimbuzz has launched an Android version of their "mobile social messaging" application.  Like it's iPhone sibling, the Nimbuzz Android app lets you connect to multiple IM and social networks, including Google Talk, Yahoo! Messenger, Windows Live Messenger, Skype, Facebook and others.
The interface is compact and efficient, complete with avatar display, online awareness (to determine if your contact is available) and an icon to show what network they are on.
The Android version has some unique features:
Time Sensitive User Interface – Touch a contact's icon lightly to see their profile. A stronger touch starts a new chat.
Auto-reconnect – Keeps you connected using whatever signal is available. If you leave the range of your WiFi, Nimbuzz will automatically reconnect using your data connection.
Support for some location-specific networks. Not a big selling point for me personally, but Nimbuzz even supports social networks such as Hyves from the Netherlands, StudiVZ from Germany, Gadu-Gadu from Poland, and Giovani from Italy.
I like the UI for the contact list. If you're running Android, you'll want to give Nimbuzz a try.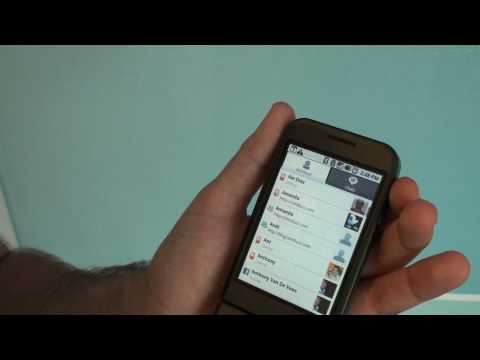 The venerable IM is vulnerable. SecuObs.com reports that popular instant messenger ICQ ("I seek you"), version 6.5 is vulnerable to HTML-injection attack.
What does this mean?
The incoming message window in the vulnerable ICQ client works like a mini web browser. An attacker can try to exploit the vulnerability by sending specially crafted message to the remote ICQ client. The malicious message can contain text data which will be interpreted and displayed in the incoming message window as a HTML code. Potentially an arbitrary HTML code could be injected.
There are two risks that have been identified:
1.  Information disclosure
For example, an attacker can inject <IMG> tag that could lead information disclosure (such as remote client's IP address, browser version, OS version, etc.)
2.  Spoofing
An attacker can spoof ICQ client software's system messages, interface elements (buttons, links) in the message window, etc. For example, it could be used for forcing of the ICQ users to click on attacker's malicious link.
The vulnerability exists in the lastest build of ICQ 6.5, and may affect older versions as well.
As of yet, ICQ has not issued an update to fix this vulnerability. To be safe until they do, I suggest using an alternate, compatible IM client  such as Trillian, Adium, Pidgin or Digsby.
After an extensive public beta, Trillian Astra has officially launched. Trillian Astra is a popular multi-network instant messenger and communication tool that has been around for a long time. This new version brings a much-needed update to that Trillian legacy.
Competition is good for the consumer, and now (at least on Windows) you have two choices: Trillian and Digsby.
Cerulean Studios, the developers behind Trillian Astra, are working on a version for the iPhone and iPod Touch, as well as a cross-platform web client and a dedicated client for OS X. I've been testing Trillian Astra for the iPhone, and I like it so far. It leverages push notifications allowing you to stay connected even when it's not running. If they can improve the time to connect it will be my favorite IM on the iPhone.
Trillian Astra comes in two versions, a free version with basic functionality, and a paid, Pro version that adds additional features. The Pro version sells for $25 (or $10 to upgrade for existing Pro owners). I own a Pro license, and found it was well worth it several years ago. I haven't yet decided whether I'll spring for the upgrade, as now I tend to use IM for more basic collaboration, which the free version supports quite nicely.
You can download Trillian Astra for Windows or learn more about it here.
Back on March 1st, we introduced an extensive redesign of BigBlueBall to make it easier for you to participate in our community. We revamped the front end of our site to leverage the powerful-but-flexible WordPress back end. We made it possible to comment without registering, and made it possible for you to sign in using your Facebook account.  But best of all, we added a bold, fresh look based on the wonderful Lifestyle theme from StudioPress,
Now BigBlueBall is featured in the Lifestyle section of the StudioPress Showcase! I'd like extend a special thanks to Brian Gardner, head of StudioPress for the fine work he puts into each of their beautiful and functional WordPress themes.
If you'd like to use one of their themes for your web site, check them out. If you end up buying one, you'll also be supporting BigBlueBall — proud affiliates of StudioPress. And if you need assistance customizing them or integrating with your forums, contact me. I'd love to help!