I first started using Instagram in November 2010, and it's one of my favorite photo apps. The fact that it's on my iPhone home screen is a testament to it's draw. The clever filters designed to make photos look old-timey draw the ire of many photographers, but people love'em.
One of the overlooked qualities that set Instagram apart from other photo sharing sites like Flickr was that it was a mobile-only site. You could only upload photos from the app on your iPhone or Android smart phone, and you could only view and browse photos from others through that same app. There was no web-based interface at all.
That changed over time, and third-party developers like Statigram and Webstagram filled the gap, building web sites that used the Instagram API to let you browse photos and even like or comment on them.
Instagram has finally relented, introducing the Instagram Web Profile. This gives you an official web interface to Instagram photos, letting you browse, sign-in, like and comment on photos all from your web browser.
You can get to the web profile for any Instagram user by browsing to http://instagram.com/[username]. For example, http://instagram.com/jeffhester will bring up my profile.
When you click on an individual image, it opens the full-size image in a light box. If you've signed in, you'll see options to like or comment on the photo.
You may notice that these new Instagram Web Profiles bear a striking similarity in layout to your Facebook profile. Not surprising, considering that Instagram is now owned by Facebook.
Is Facebook slowly killing Instagram? Does the new web profile signify the "end of mobile?"
Maybe. Or maybe it's just a new path.
So true…
Is it true for you? Leave a comment!
I am a huge fan of gamification and quantification. What is it? Simply put, gamification leverages game mechanics to make something routine seem more like fun, therefore encouraging you to do it over and over again. And quantification employs tracking your activities, statistics and other data over time to see patterns and trends emerge.
Those of you are (or were, or had) teenagers who could sit for hours in front of their Xbox or Playstation playing the same game over and over. That was game mechanics at work. You do well, you get rewarded. You gain skill. The game gets progressively more difficult, but not at a rate that discourages you enough to give up entirely. And you keep at it until you've mastered it.
Games don't attract all personalities, but for whatever reason, I love'em. And gamifying my personal health and fitness? I'm all in.
Earlier this month, I made a commitment to train for the LA Marathon in March 2013. And as part of my preparation I need to shed some excess pounds. So here are a few of the iPhone apps that I've been using.
Nike+ Fuelband
This is a free app, but only useful if you've sprung for one of Nike's $150 FuelBands. I got mine when they first came out in February, and have been wearing it every day since. I love it, and it really has helped motivate me. What's so great about the FuelBand? First, it's dead simple. The inconspicuous wrist bracelet is comfortable and holds a charge for an entire week. It tracks steps, calories, and Nike's "secret sauce" — Fuel Points. You can upload the data to your personal Nike Fuel website via your computer or iPhone, and it tracks your activity throughout that day, minute-by-minute. Over time, you get a clear picture of how active you really are (or not).
As an added bonus, it can automatically post my activity to another of my favorite apps, Path.
RunKeeper
So what is it? Runkeeper is essentially a GPS-powered route-tracker. Most of the time, I simply use the GPS-tracking, select my activity (hiking, running, walking, etc.) and press Start. Runkeeper keeps track of where I go, how far I go, and my pace at every point along the way. If I want, it will even help pace me, telling me to speed up or slow down to stay within my target pace. And when I'm done, I've got a complete breakdown of the workout and a map to boot.First, I should note that you can use RunKeeper even if you're not a runner. I've used it for walking, hiking, biking and yes, even running. RunKeeper helped coach me through my training for the La Jolla Half Marathon this spring. And I use it to record my hikes, many of which end up posted on my hiking blog.
Runkeeper has way too many features to cover in a short period of time, but it's a pleasure to use and my go-to app for tracking runs, walks and hikes.
GymPact
GymPact is interesting only in how it uses the "carrot and stick" approach to workout motivation. You create a "pact" defining how many times you commit to working out each week, and (here's the kicker) back that up with cold, hard cash. I've committed to working out 4 days a week, and if I miss a workout, I am automatically charged $5 for each missed workout (the minimum stake, and an effective "stick").
You may be questioning my sanity at this point, but there is a "carrot," too. If I successfully complete my pact, I actually earn money. No, it's not as much as I could lose, but it's better than a poke in the eye with a stick. There are some curious rules to how it works. You have to check-in at a recognized gym (it uses your phone's GPS) and workout for a minimum of 30 minutes for it to count. And they recently enhanced this to also allow you to use GPS runs tracked via RunKeeper (again, they have to be over 30 minutes long).
The combination of the threat of loss with the promise of gain is actually helping me stick to my goals.
Lift
This little app is not just for health and fitness. Lift can be used to track and motivate you to perform any activities that you want to "bake" into your life. Tim Ferriss used Lift to get him to floss more regularly. Plenty of folks use it to get them to read more. I'm using it this month to help me with the 4-Hour Body Challenge. You define the daily habits you want to repeat. For now, I've got five that all support 4-Hour Body (FHB) concepts: measure weight and body fat; eat 30 grams of protein within 30 minutes of waking; following a strict, slow-carb diet; exercise; and cold showers (lowers body temperature and increases metabolism).
Lift is simple to use and gives you an easy way to track your progress in the activities you care about. It's free, and there's no betting or money to win or lose. Just good ol' data to use as you see fit. Oh, and the opportunity to give and get props from other Lift users.
DietBet
Lastly, comes DietBet. This app is specifically for losing weight. Like many other weight-loss challenges, you are pooling your entry fee with other competitors. But with DietBet, the kitty isn't rewarded to the person with the single greatest loss, but shared among everyone who meets the stated goal of the game. My game is tied into Tim Ferriss' 4-Hour Body Challenge, and the goal is to lose 4% of our starting weight over four weeks.
Like GymPact, DietBet uses a similar "carrot-and-stick" approach but with a social competition element (and of course, the focus on diet, not workouts). Since 90% of weight loss is controlled by diet, this has been a huge motivator for me to stick with the slow-carb diet.
Conclusion
I've tried dozens of iPhone apps and these are all pretty good. I'd recommend them, but suggest that you think about what makes you tick and whether gamification and quantification is really something that will help you achieve your goals. If so, check these apps out.
Have you got an app that you think kicks the ass of one of these? Leave me a comment and tell me what makes it so great.
Steve Jobs, the visionary leader of Apple has died at the age of 56, just a few months after announcing his retirement as CEO. Jobs had been battling pancreatic cancer for eight years.
The Apple website has been replaced with an memorial for the man who not only co-founded the company, but helped turn it around when he returned in 1998, revolutionizing the tech world in the process. The statement reads:
Apple has lost a visionary and creative genius, and the world has lost an amazing human being. Thos of us who have been fortunate enough to know and work with Steve have lost a dear friend and an inspiring mentor. Steve leaves behind a company that only he could have built, and his spirit will forever be the foundation of Apple.

If you would like to share your thoughts, memories, and condolences, please email rememberingsteve@apple.com
Personally, the original Mac was one of the first PCs I used, back in 1984. I learned the Basic programming language on an Apple II computer. Fast forward a decade to the introduction of the iPod. Most of have owned not one, but several generations of iPods. Apple redefined how we listen to music. Then Apple did the same with computing, mobile phones, tablets, and so much more. Much of this can be attributed to the leadership and vision of Steve Jobs.
Rest in peace, Mr. Jobs. You will be missed.
Group messaging startup GroupMe has agreed to be acquired by Skype. GroupMe was started just a year ago by Jared Hecht and Steve Martocci and has already raised over 11 million from investors.
What is GroupMe?
GroupMe allows you to create on the fly private phone groups with others, and then send text messages throughout the group and set up free conference calls.
Skype intends to operate GroupMe as a standalone entity with their own product line, and look for integration points with Skype down the road. The acquisition could provide a great boost in visibility and credibility for GroupMe, exposing millions of Skype users to the tool.
Read the announcement on the GroupMe blog.
The popular and venerable multi-network IM program Trillian is now available in an open beta test for Blackberry devices.
Like the other versions of Trillian, this supports the major instant messaging networks including AIM, ICQ, Windows Live Messenger, Yahoo! Messenger, Google Talk, MySpace and Facebook. It allows you to manage meta contacts (one of the nicer features of Trillian) as well as send and receive photos and files.
Note that this is a time-limited beta version that will expire when the final version is released.
Learn more about Trillian for Blackberry or download it now.
Blackberry users throughout North America faced long delays receiving email on their devices this Thursday. Research In Motion said they were aware of the problem and that engineers were working to solve it as soon as possible. RIM noted that customers could still make and receive phone calls, text messages and browse the Internet.
Customers first noted the problem in the official Blackberry support forums.
RIM's centralized structure for pushing email has been very reliable over time, but an outage has the potential to affect millions of Blackberry users.
The Canadian company is scheduled to release their quarterly earnings report this afternoon. Should be an interesting day for them.
Sexting is all over the news these days. Whether you find it risky or risque, Joy of Tech's Nitrozac and Snaggy share the truth about sexting in this week's Sunday Funny.
Google has done some interesting things with mobile search in the past year, introducing voice search and local search using the location awareness capabilities of today's smartphones. Today, they are introducing visual search called Google Goggles.
Google Goggles let's you take a picture of something, and Google will do a quick search that tells you more whatever you were looking at. Obviously, it won't work for everything, but it does have fairly broad application. They provide examples of how you can use it for looking up information about a landmark, artwork, bottle of wine, brand, book, contact info (i.e. a business card) or place.
How Google Goggles Works
In a nutshell, Goggles lets users search for objects using images rather than words. Simply take a picture with your phone's camera, and if we recognize the item, Goggles returns relevant search results. Right now Goggles identifies landmarks, works of art, and products (among other things), and in all cases its ability to "see further" is rooted in powerful computing, pervasive connectivity, and the cloud:
First they send the user's image to Google's datacenters
Next they create signatures of objects in the image using computer vision algorithms
They then compare signatures against all other known items in our image recognition databases; and
They figure out how many matches exist; and
Return one or more search results, based on available meta data and ranking signals; and
Google does all of this in just a few seconds
Google Goggles Explained
This video provides a great introduction to Google Goggles.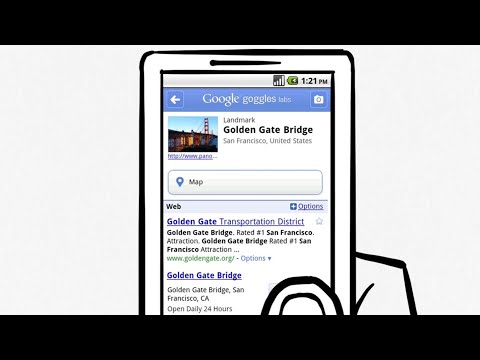 It's a clever idea, but it's currently only available on phones running Android 1.6+. Of course there's no reason they couldn't do the same for the iPhone or other smartphones, and I suspect versions for those will pop up soon.
If you're running an Android phone, head over to the Android Market on your phone and search for "Google Goggles." Let us know how it works for you!
Nimbuzz has created the first multi-network IM app for BlackBerry smartphones available in the RIM App World store. Because it's design as a native BlackBerry app, it can run in the background and push notifications to the phone much like their iPhone and Android apps can.
This is the first version, and currently only supports instant messaging conversations. VoIP support is promised in a future update.
Nimbuzz for BlackBerry supports IM via Skype, Google Talk, Yahoo! Messenger, Windows Live Messenger, Facebook and MySpace. The app is free, and will work on all BlackBerry smartphones running OS 4.6 or higher, including the Pearl Flip, Curbe, Bold, Storm and Tour.
Want Nimbuzz for your BlackBerry?
Get it here.