Unless you've been living under a rock, it's been pretty hard to avoid hearing about Twitter. But even many of the people who use Twitter have a hard time explaining exactly what it is. More importantly, what's the point of Twitter?
This clever video does a great job of explaining what Twitter is and why it matters.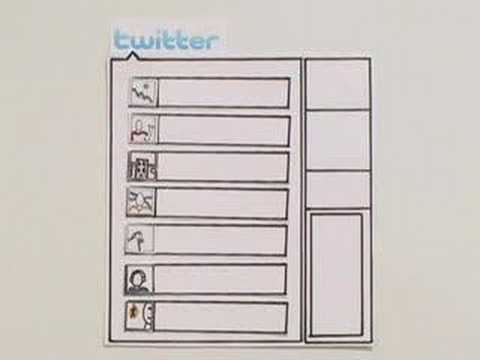 Of course, it is possible to take Twitter too seriously, in which case you should watch this. Oh, and please follow us on Twitter.
Thank you to Jonathan Kay for giving his permission to repost his full blog entry from MessengerGeek on Live Spaces here for our BigBlueBall members. This is valuable information of which every WLM user should be aware. This is a wonderful explanation of what to watch out for, and what to do if you think you've been compromised.
As the most used instant messaging service in the world, it's become more and more common to find your contacts sending out virus, spam and worm links through Messenger. There's a lot of different types and different steps for removal, but the one most recently affecting people is a "phishing worm". Read more
WHAT IS INSTANT MESSAGING?
What makes instant messaging the fastest growing technology on the Internet? Like email, it allows you to communicate with other people. But like a phone call, you communicate in real-time. Using instant messaging, or simply IM, you can instantly see if your friends are online. If they are, you can send them a quick message and start communicating in real time. IM makes it easy and fun to keep in touch with your friends.
GETTING STARTED
What do you need to get started? Well, first you need to choose an instant messaging program. AOL Instant Messenger (AIM) and MSN Messenger are two of the most popular, and there are many more to choose from. Best of all, they are FREE! 
Not sure which instant messaging software to pick? Check with your friends and find out what they use. If you want to chat with them, using the same IM software will make it easy. Some instant messengers allow you to communicate with friends using other IM products. If this is interesting to you, check out our IM interoperability matrix.
Next: Setting Up Your Account
Ever wanted to create your own AIM Expression? This tutorial describes the basic process. I won't really go over any design aspects as to how to make the Expression look good, that'll be left up to you to figure out. This tutorial will only work if you keep all the files in one folder. Read more
MSN Messenger 6 introduced the ability to add your own, user-defined emoticons. Unfortunately, they don't currently allow you to send animated images. You can specify an animated image as your custom emoticon, but MSN Messenger will only display the first frame of the animation.
MSN Messenger 6 does have eleven built-in animated emoticons, and with a little effort on your part, you can replace them with your own animation. Read more
As long as I've been a part of the MSN Messenger community, one of the most asked questions is "How do I remove Windows Messenger from Windows XP?"
Most people tell you to do this:
Go to Start > Run then type: RunDll32 advpack.dll
LaunchINFSection %windir%\INF\msmsgs.inf, BLC.
Remove and press Enter
Although almost all of us already know the answer was to do that above, I'm here to tell you it's wrong. Though removing Windows Messenger would seem a blessing, doing so would effectively lag your Outlook/Outlook Express as well as cause some Windows XP features to cease functioning.
Luckily there is an alternative. Instead of uninstalling Windows Messenger, you should hide it. The only way I know of so far would be to use an application called Disable Windows Messenger by Doug Knox.
Useful Links
If you have any ideas, comments, or questions just share them in our Windows Live Messenger forum.
The Internet is a world of information and knowledge; however it's a dangerous place. In this article I'll give ways to keep your passwords more secure and I will give an example of how easily a password can be stolen. I'll also show you some other great tips to keep secure online. Read more